By:  Diane Benjamin
People who believe in man-made climate change love to proclaim the weather is worse now.  NOAA disagrees, and this chart only goes back to 1954.
https://www.ncdc.noaa.gov/climate-information/extreme-events/us-tornado-climatology/trends
Want to know the history before 1954?  Pekin Il was destroyed in March of 1938.  The source is Wikipedia, not a source I usually trust, so take it as that:
https://en.wikipedia.org/wiki/List_of_North_American_tornadoes_and_tornado_outbreaks#1940s
That article references how many people died and how many were injured.  Now we have weather warnings that save lives.
NOAA has another interesting chart, it shows lots of tornadoes between 1880 and 1950.  Is that why most charts now start in the 50's?  Is somebody trying to hide the crazy weather of 1910 – 1950?  It's hard to make a case for more violent storms now caused by man when those years were worse.
https://www.nssl.noaa.gov/users/brooks/public_html/deathtrivia/fig1.gif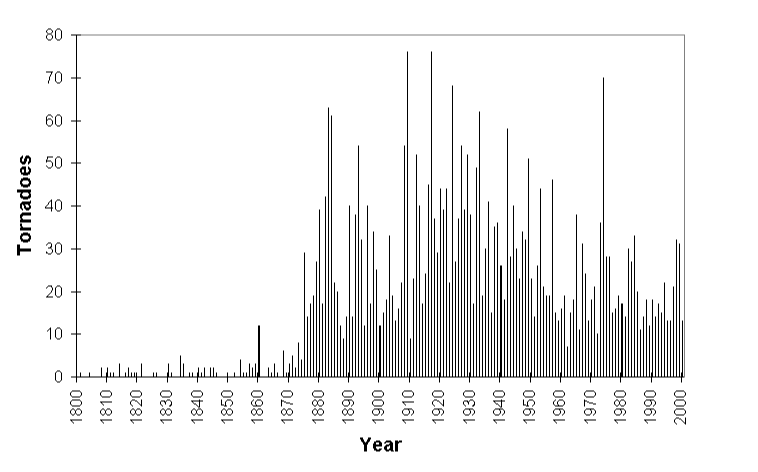 The low numbers recorded before 1870 are likely due to lack of data and lack of  residents where the most tornadoes occur.  Oklahoma records the most.  It didn't become a state until 1907.